Laporte High School


Class Of 1984
In Memory
Edwin Buss VIEW PROFILE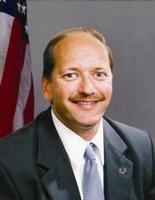 Edwin Gregory Buss, 50, of La Porte, passed away unexpectedly Friday, January 15, 2016 in his home.

He was born on September 12, 1965, in La Porte, Indiana, to William D. and Dolores (Lindgern) Buss.

Edwin honorably served his country in the United States Army during the mid-1980s. He earned his bachelor's degree from Bethel College, Mishawaka. He started his career as a correctional officer at the Indiana State Prison in 1987 and in 1994 at the Lakeside Correctional Facility… in Michigan City and had been promoted to the highest rank for a uniformed officer. He joined the administrative ranks in 1997 when he was named a correctional unit team manager at the Indiana State Prison. He then served as assistant superintendent of operations/programs from 1998 to 2001. Edwin was the superintendent at the Westville Correctional Facility from 2002 to 2005 and at the Indiana State Prison in Michigan City since 2005. In 2005, he was awarded Department of Correction's Superintendent of the Year. Edwin had been an Auditor for the American Correctional Association.

On June 26, 2008, he was named by Governor Mitch Daniels as the new Commissioner for the Indiana Department of Correction. During his IDOC career he had been Cadre for IDOC Emergency Response Operations. On January 19, 2011, Edwin was presented with the Indiana Distinguished Service Medal "for his loyal and lengthy service to the United States of America and the state of Indiana." In 2011, he was the secretary of Florida Department of Corrections, from 2012 to 2014 he was Chief Development Officer at Correctional Healthcare Company, and 2014 to 2015 Contract Monitor for the State of Michigan, and presently worked as a Correctional Consultant.

Surviving are his three children, Taylor Buss, and Jake and Connor McMillan all of South Bend; and three siblings, Linda (Rickey) Krout, Patty Back, and Gary (Patty) Buss all of La Porte.

Preceding him in death were his father; and two sisters, Georgene Buss and Betty Ohime.
Click here to see Edwin's last Profile entry.